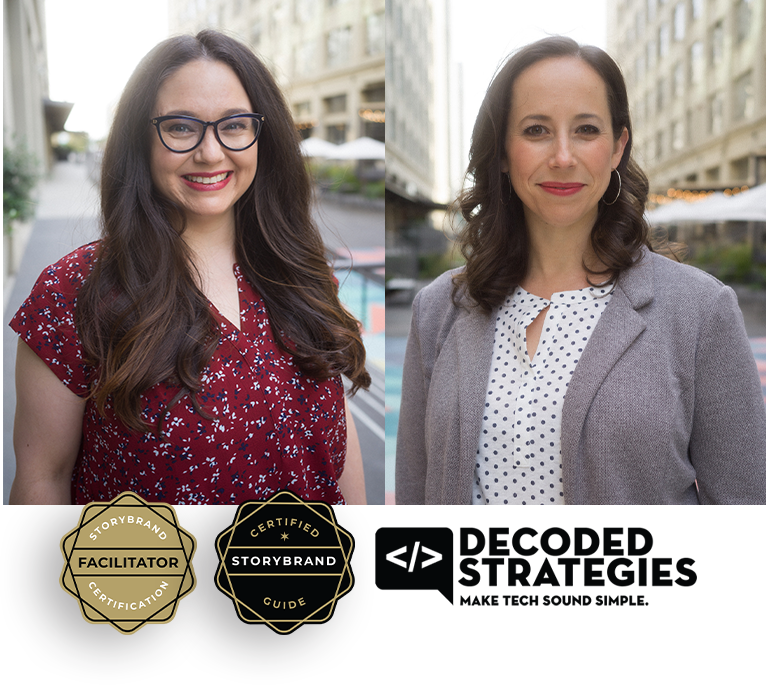 We Are
Decoded Strategies
Kristin Spiotto and Annie Mosbacher are dedicated to helping promising, but stuck, tech companies implement marketing and retention strategies that lead to long-term success. 
Get more customers and keep the ones you have.
People should be excited about what you're building, right?
Messaging is tough for tech startups. You have this game-changer product, but as soon as you try to describe it, peoples' eyes glaze over. The minute they get confused, you've lost them. And that goes for your existing customers too! Your prospects should be thrilled that they've finally found the help they're looking for. Your customers shouldn't be able to imagine life without you.
We can help with that.
Hi, we're Kristin and Annie
We've been in your shoes. We come from leadership roles in the tech sector, working with SaaS businesses to build marketing and customer success strategies that help companies thrive.
We became dear friends the moment we met in 2012. We share a love for cooking, crafting, and (of course) tech. We both have highly strategic minds and realized quickly that we're a match made in heaven.
We are both passionate about our work and unstoppable when it comes to helping our clients grow their businesses and defeat churn once and for all. We have a knack for listening well to our customers and distilling complex ideas into simple, relevant concepts. We'll help you boil your message down to the most simple, powerful form.
When we're not in strategy sessions with clients or copywriting, we're usually cooking up great things in the kitchen and sending each other photos of our latest quilts.
We believe in creating a beautiful life. And we've learned that when your business is successful, it gives you the freedom to let that take whatever shape you want.
Cheering You On,
Kristin & Annie
Breathe easier. Make more money. Look ahead to a bright future.