Stand Out from the Competition: 5 Marketing Tips for Value-Added Resellers
In today's crowded technology market, value-added resellers (VARs) often find themselves facing a common challenge: how to differentiate from the competition. With similar products and services, it's crucial for VARs to communicate their value in a clear and compelling way.
That's where the power of the StoryBrand Marketing Framework comes in. In this post, we'll explore the common marketing challenges VARs encounter and provide you with five actionable tips for value-added resellers on how using the StoryBrand Framework to create a simple and clear message that helps you stand out from the crowd.
Challenge #1: Confusing Messaging
One of the biggest obstacles VARs face is confusing messaging. When your potential customers can't grasp the value you offer quickly, they may turn to your competitors. To combat this, it's essential to craft a clear and concise message that resonates with your target audience.
Tip #1: Understand Your Ideal Customer
To create a compelling message, you must know your ideal customer inside out. Consider their pain points, goals, and aspirations. By understanding their needs, you can tailor your message to address their specific challenges and position yourself as the solution they've been searching for.
Challenge #2: Lack of Differentiation
VARs often struggle to differentiate themselves from similar competitors. Without a unique selling proposition, it's challenging to stand out in the market.
Tip #2: Identify Your Unique Value Proposition
The StoryBrand Framework encourages you to identify your unique value proposition. What sets your business apart? Whether it's your industry expertise, deep listening skills, or your commitment to building strong relationships, highlight what makes you different and communicate it clearly to your audience.
Challenge #3: Lack of Clarity in Brand Messaging
VARs may have valuable products and services, but if their brand messaging is unclear, they risk losing potential customers. In a noisy market, clarity is key. This is what enables you to communicate exactly what you deliver to the right audience.
Tip #3: Craft a Compelling Brand Message
With the StoryBrand Framework, you can create a powerful brand message that eliminates confusion and fuels your growth. Focus on expressing how your offerings solve your customers' problems, let them know you understand what they're going through, and establish your credibility in a way that shows you are the trusted partner they've been looking for. Skip the tech and marketing jargon and keep your message simple, relatable, and easy to understand.
Challenge #4: Clients Tuning Out When They Don't Understand What You Do
No one has the time, energy or interest in working harder than they need to. That goes for working hard to understand how your products and services make their lives better. VARs must effectively communicate their value to potential clients. Failure to do so can result in missed opportunities and lost business.
Tip #4: Use the StoryBrand Framework to Guide Communication
The StoryBrand Framework helps you guide your communication by putting the customer as the hero of the story. Create a narrative that showcases how your solutions transform your clients' businesses, align their teams, and help them achieve success. By telling a compelling story, you engage your audience and make your message memorable.
Challenge #5: Lack of a Collaborative Marketing Partnership
Here's the deal- when you know everything there is to know about your own company, it's hard to create effective marketing. You need an outsiders perspective to ensure you're meeting your customers where they are, and speaking to them at the level they need to understand what you do. Value-added resellers understand the value of collaboration and appreciate working with customers who share their passion and dedication- and the same thing should go with a marketing partnership.
Tip #5: Choose the Right Partner
Working with a trusted partner like Decoded Strategies can make all the difference. We specialize in helping VARs craft compelling messages that resonate with your audience. With our StoryBrand Framework expertise and commitment to building strong relationships, we can help you unlock the next level of growth, dominate your market, win the right kinds of clients, and align your team around a clear brand message.
Summary:
In a competitive market, standing out as a value-added reseller requires a compelling and clear message. By implementing the tips we've shared, you can leverage the power of the StoryBrand Framework to differentiate yourself, communicate your value effectively, and engage your audience. Remember, clarity is key. And if you're seeking a partner who understands your challenges and can guide you through this process, we're here to help.
We know how exhausting it is trying to solve the "it's complicated" problem. That's why we're dedicated to guiding you through the process and eliminating any confusion that may hinder your growth.
With our extensive experience working with hundreds of tech companies, including industry leaders such as TD SYNNEX Public Sector, DLT, Sonrai Security, and Synack, we have the authority and expertise to guide you through the process. By leveraging the StoryBrand Framework and working with us, we can create a simple and clear message that helps you stand out from the crowd.

Making Tech Sound Simple
We help tech-focused companies implement the StoryBrand framework in simple, powerful marketing and retention.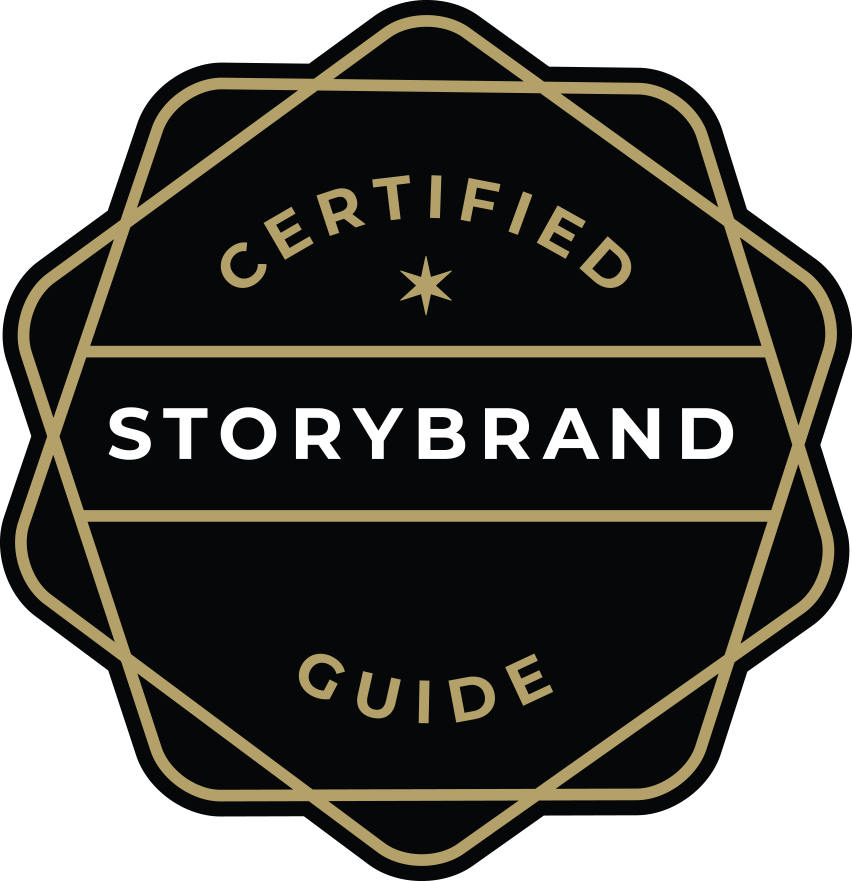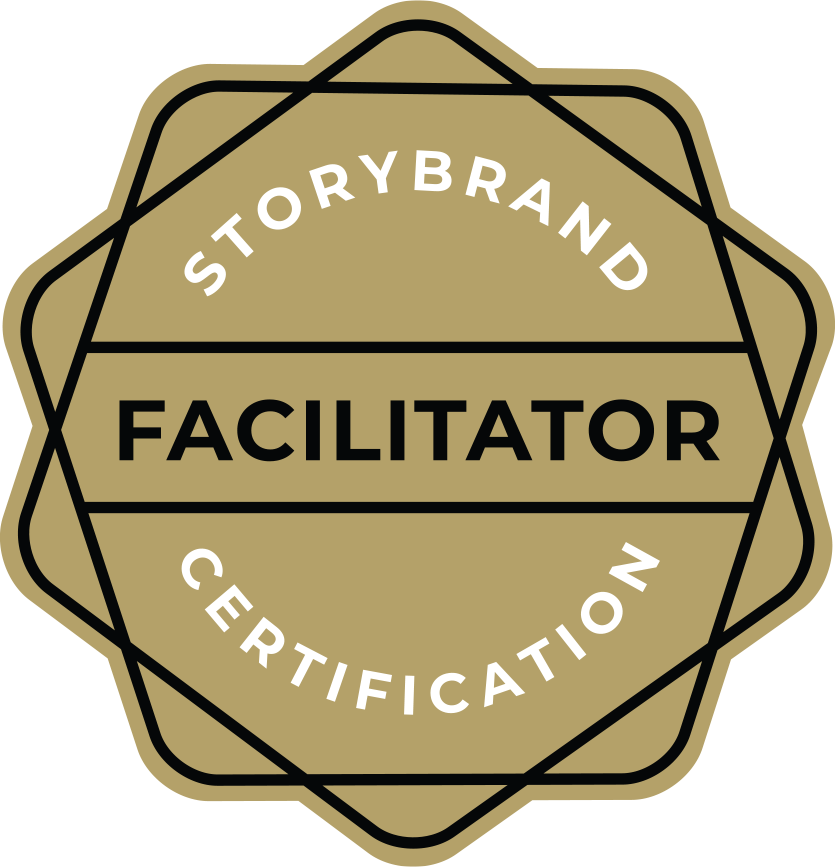 Want to learn more marketing best practices?
Sign up for our weekly emails to become a master of clear marketing.
StoryBrand Crash Course: Quickly Learn the StoryBrand Basics to Level-Up Your Marketing Maybe you've read Building a StoryBrand. ...
Read More

→
Customer Offboarding is More Important to Your Customer Experience Than You Might Think It sucks when customers churn. ...
Read More

→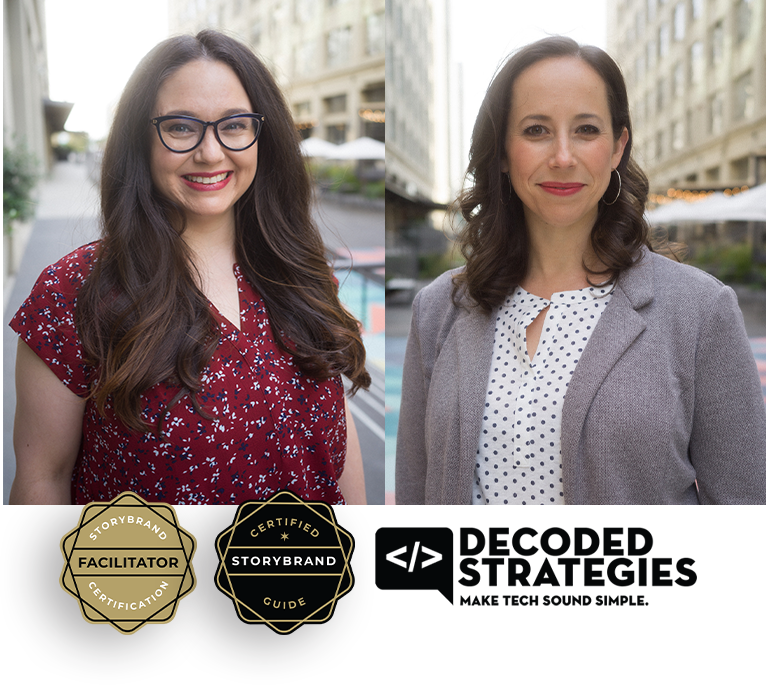 Decoded Strategies
A Fresh Perspective
Brands with incredible products get beat by the competition every day. Confusing messaging will cost you on every critical front of your business. Decoded Strategies delivers messing strategy & marketing services to communicate about your business in the way your audience actually wants to hear it.